Skip to Content
Understanding Different Types of Tires
At Hillen Tire and Auto Service Tire Pros in Maryland, we offer a huge selection of car and truck tires from the most respected names in tire manufacturing. Car tires don't last forever, and depending on the tread wear and how old they are, eventually, every vehicle will need a new set of tires. Most drivers put enough mileage on their tires that the treads will wear down before they need to start looking at their tires' expiration date. But when it does come time for new tires, how do you know what kind of tire to choose among all available? The professionals at Hillen Tire and Auto Service Tire Pros will help you pick the best tires based on your car and budget. Read on to learn more about what tires are available.
Tires for Sedans, Crossover SUVs, and Minivans
This group of vehicles, also known as passenger touring vehicles, uses tires designed for smooth and quiet rides. They offer drivers long-lasting treads and provide reliable handling in all weather and seasons. Tires are available for both standard and luxury model vehicles. Special performance tires are also available for this class of car but aren't intended for day-to-day driving.
All-Season Tires
As the name implies, these tires are designed to handle driving conditions in all seasons and provide excellent handling and comfort on the highway. Eliminating the need to change tires with the seasons and their steady performance on local and highway roads makes them a popular choice for most vehicle owners.
Touring Tires
Touring tires are also referred to as Grand Touring tires and feature wider treads. They offer enhanced traction over all-season passenger tires, and while their treads provide reasonable life, they don't usually last as long as standard all-season tires.
Performance Tires
Performance tires offer better grip in wet and dry conditions than touring tires and are rated for higher speeds. They are generally found on sports and high-performance cars.
Summer Tires
Summer tires are designed for warmer climates to handle roads in both wet and dry conditions. They offer broader contact points with the road and have enough groove to resist hydroplaning but don't play well on snow or ice.
Winter Tires
For the best traction and control on snowy, icy, and slushy conditions, winter tires contain heavy siping to dispel snow and ice to stay in contact with the road's surface. They are available in studded and non-studded for varying levels of traction.
Track & Competition Tires
These high-performance tires are similar to street performance tires mentioned above. However, this type of tire is not used for daily driving. They are designed to provide constant contact on dry roads and utilized primarily in amateur or professional racing and track driving.
Truck and SUV Tires
Truck and SUV tires are designed based on the road surface the vehicle will commonly be used on. Whether it's the highway, dirt roads, a combination of both, or mud terrain, there is a tire option for every truck and SUV.
Highway
Like the all-season passenger tires, SUV and truck highway tires are designed for smooth pavement driving and excellent all-season traction while handling these vehicles' heavier loads.
All-Terrain
For drivers who find themselves traveling through gravel, sand, or light mud as often as paved roads, all-terrain tires feature a more rugged tread pattern than highway tires but still offer comfortable driving.
All-Purpose
All-purpose tires fall in between highway and all-terrain tires. They're also known as trail tires or very mild all-terrain tires. They provide a little more off-road grip on soft conditions than a highway tire would but less than their all-terrain counterpart.
Mud-Terrain
These are characterized by their large tread blocks and additional voids to provide more traction in soft terrain. These tires are reinforced to resist punctures and tears that would typically occur off-road.
Ribbed
Commercial vehicles that put in a lot of highway miles are ideal for ribbed tires. They offer superior highway handling while supporting heavy loads with fantastic weather traction.
Sport Truck
For all-season performance similar to highway tires but with a higher speed rating at which they can safely carry loads, sport truck tires are the right choice.
Specialty Tires for Other Vehicles
Outside of the standard sedan, minivan, SUV, and truck tires, specialty tires are available to accommodate trailers, ATVs, tractors, and more. Read on to learn more about these options, and let us find the perfect specialty tire for your needs.
Spare Tires
Compact temporary spares, or donut spares, are slightly slimmer than standard tires and are designed for limited use until a permanent tire replacement is completed. Spares are typically only rated to travel about 50 miles and at a maximum speed of 50 mph. Full-size spares are often the same brand and type as the other four tires on the vehicle.
Trailer Tires
There are two main types of trailer tires; bias ply and radial ply. Bias ply tires are designed to carry heavier loads and travel farther distances. Since they usually carry more weight, they tend to suffer from irregular wear. Radial ply tires are smoother and ideal for highway driving.
ATV/UTV
These are similar to all-terrain vehicles with deep voids and large tread blocks to handle soft terrains, such as mud, sand, gravel, and rocks.
Lawn & Garden Equipment Tires
This category includes tires for anything from dollies and wheelbarrows to tractors and golf carts.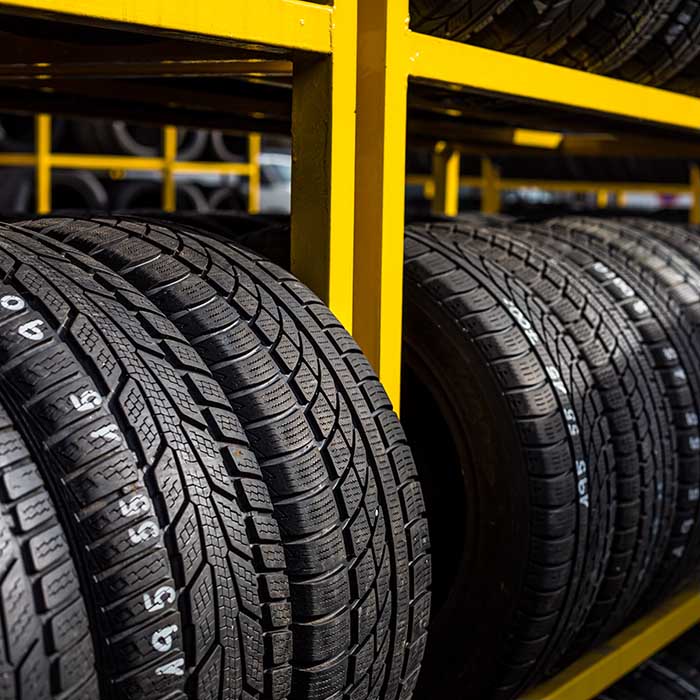 Expert Tire Balance & Replacement Services
Hillen Tire Pros proudly uses the Hunter Road Force® Elite Wheel Balancer and Touchless Tire Changer for all of our clients. Higher-quality tire balancing gets you in and out the door with the smoothest ride possible.
Touchless anyone? Have you had tires installed at other shops only to scrub grease off your wheels and rims after you went home? Our touchless tire-changing machine does the job perfectly without leaving behind any unwanted residue.
Hillen Tire and Auto Service Tire Pros continued investment in cutting-edge tire equipment shows our commitment to treat your vehicle like it was our own.
Speak With a Tire Specialist
With such a large selection of tires to choose from, it may seem overwhelming to decide which tires are right for your vehicle. The team at Hillen Tire and Auto Service Tire Pros in Maryland can take the guesswork out of buying tires for your car. Knowing what kind of car or truck you drive, the type of driving you do daily, and considering the climate in our area, we can determine which tire is best for you. Visit our location today, and we'll get you a new set of tires today.