Skip to Content
Auto Heating & Air Conditioning Services in Timonium, MD
Don't Endure Hot Summers Without AC!
We've all spent summer days in a room with no air conditioning, and many of us have dealt with winter nights without heating. When the heating or air goes out in your car, don't resign yourself to driving around in uncomfortable temperatures. The team of mechanics at Hillen Tire and Auto Service Tire Pros is here to offer the air conditioning and heating repair services you need. Our technicians have years of experience working with all makes and models, and we'll have the problem diagnosed in no time. Give us a call or stop by our Lutherville Timonium, MD service station.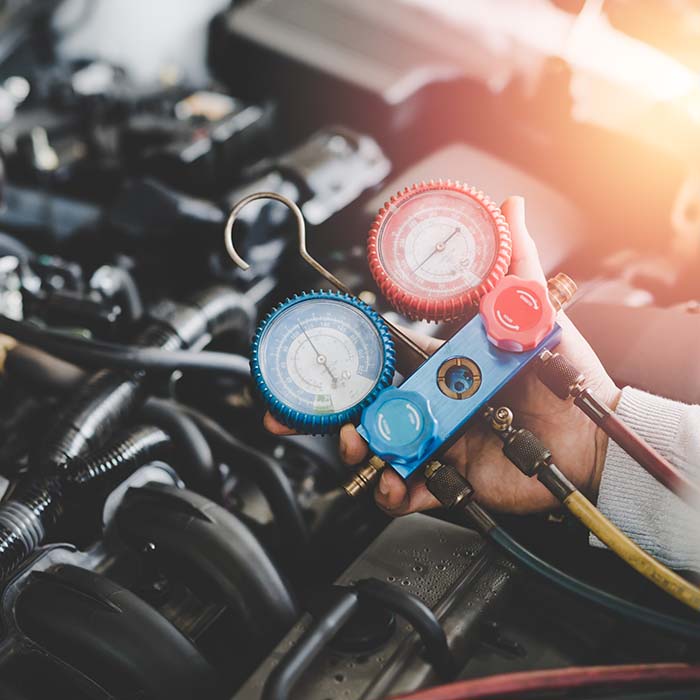 Is There a Problem With My AC?
How do you know when an issue with your AC calls for professional repairs? Most of the time, you'll be able to tell when your heating and air conditioning is struggling. But in some instances, it can be difficult to tell whether there's really a problem. If you notice any of these issues, give the Hillen Tire and Auto Service Tire Pros team a call:
Strange Smells – If you smell an unpleasant odor coming from the vents in your vehicle, there could be something wrong with the AC system. We recommend turning the AC off right away, as a strange smell could indicate a chemical leak.
Poor Airflow – A vehicle's heating and air conditioning should reach all passengers. If the airflow isn't strong enough to cool or heat the entire car, it's time for repairs.
Leaks – Refrigerant leaks are never a good sign. If you notice a greasy film on the controls or puddling underneath your vehicle, stop by our service station immediately.
Make an Appointment Today
A malfunctioning air conditioner is more than just a matter of comfort—it can also affect the safety of your vehicle. As such, it's crucial that you request repairs as soon as possible. Fortunately, the team at Hillen Tire and Auto Service Tire Pros keeps convenient hours and provides prompt service for all kinds of car trouble. Visit us for premier air conditioner repair, and come back for brake repair, fleet services, and so much more.