Skip to Content
Get the Card for Your Car at Tire Pros
6 months special financing available on purchases of $199 or more with your Tire Pros preferred customer credit card.*
Shop our unbeatable deals now, take it home today with a Tire Pros Credit Card.*
Frequently Asked Questions
What is the Tire Pros Credit Card?
The Tire Pros Credit Card offers customers a credit card through Synchrony Bank with a revolving credit line to use again and again at Tire Pros locations nationwide*.
How do I get a Tire Pros Credit Card?
You can apply for a Tire Pros Credit Card* online or at any of our convenient locations.
Where do I check the status of my account?
To check the status of your Tire Pros Credit Card click on the Manage My Account link above to go to Synchrony Financial's website. After logging into your account, you will be able to:
Make Payments
View your balance
Update account info
Schedule up to your next 12 payments
How can I make a payment on my Tire Pros Credit Card?
Tire Pros offers three convenient ways to pay your Tire Pros Credit Card bill.
Pay Online: Click here to manage your account and make payments online.
Pay by Phone: Contact Synchrony Bank Customer Service at 1-866-396-8254 during the hours listed below to make a payment by phone.
M-F 7:30 am to 12:00 midnight EST
Sat 10:00 am to 7:00 pm EST
Sun Closed
Pay by Mail: Mail payments to the address below. Ensure that you have plenty of time for your payment to arrive prior to the due date.
Synchrony Bank
PO Box 960061
Orlando, FL 32896-0061
*Subject to credit approval. Minimum monthly payments required. See store for details. We reserve the right to discontinue or alter the terms of this offer at any time. Credit is extended by Synchrony Bank.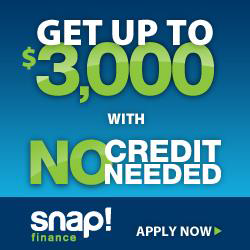 Financing in a Snap!
Snap Finance provides easy financing for people with bad credit.
Even if you have no credit, Snap is a great way to finance the things you need. It's not a traditional loan, but a consumer lease that spreads out your purchase over 12 months of easy payments.
Bad Credit, No Credit, OK!
Apply, Approve, Shop With Snap! Financing
100-Day Cash Payoff
Payback in 100 days for only cash amount, plus a processing fee.
Payment Flexibility
Create a more flexible payment schedule that fits within your life.
12-Month Payments
Pay off the purchase in 12 months or less.
Automatic Payments
Set up payments to be automatically deducted from your checking account.