Skip to Content
Engine Repair in Timonium, MD
The Importance of Engine Repair Services in Timonium, MD
Your car engine is the heart of your vehicle, and when it stops working correctly, it can cause many problems. Even with regular maintenance, your engine can still experience issues affecting its performance, fuel efficiency, and lifespan. At Hillen Tire and Auto Service Tire Pros, we understand the importance of having a reliable car and offer comprehensive engine repair services to keep your vehicle running smoothly.
Comprehensive Engine Repair Services
At Hillen Tire and Auto Service Tire Pros, we specialize in engine repair services, including:
Engine Diagnostics and Troubleshooting – Our state-of-the-art diagnostic equipment can quickly identify any issues with your engine.
Engine Tune-Ups and Maintenance – Regular maintenance can help prevent future engine problems and keep your car running smoothly.
Cylinder Head Repair and Replacement – Our technicians can repair or replace the cylinder head if necessary.
Timing Belt Replacement – A broken timing belt can cause significant engine damage, so it's important to replace it when needed.
Engine Replacement – If your engine is beyond repair, we can replace it with a new or rebuilt one.
Oil and Fluid Leak Repair – Leaks can cause engine damage and reduce performance, so we offer leak repair services.
Ignition System Repair – A faulty ignition system can cause your car to stop working, and we can fix it for you.
Fuel System Repair – We can diagnose and repair any issues with your fuel system, including fuel pump replacement.
And much more – Our experienced technicians can handle any engine repair needs.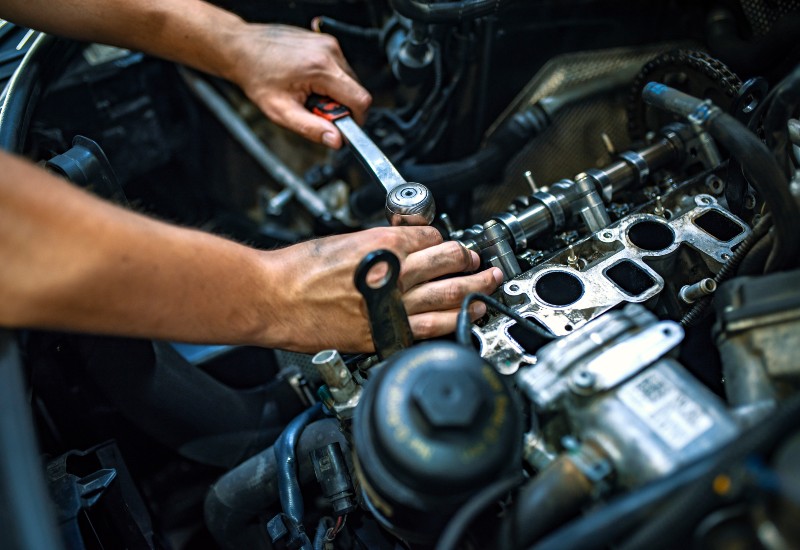 Recognizing Common Signs of Engine Problems
It's essential to know the common signs of engine problems so that you can address them before they get worse. If you experience any of the following symptoms, it may indicate engine problems:
Check engine light is on
Unusual engine noise or knocking
Decreased performance and power
Poor fuel economy
Rough idling or stalling
Benefits of Engine Repair
There are many benefits to getting your engine repaired, including:
Improved Engine Performance and Fuel Efficiency
Increased Lifespan of Your Engine
Cost Savings by Preventing Major Repairs and Engine Replacement
Enhanced Safety and Reliability While Driving
Peace of Mind Knowing Your Car Is in Good Hands
Engine Repairs at Hillen Tire and Auto Service Tire Pros
We provide engine repair services in the Timonium, MD area. Our experienced and certified technicians use the latest tools and equipment to diagnose and fix engine problems quickly and efficiently. We pride ourselves on offering high-quality repairs at an affordable price, with no hidden fees or surprises. Our goal is to provide you with the best possible service and ensure your engine runs smoothly and safely.
Honest and Transparent Pricing
Experienced and Certified Technicians
State-of-the-Art Equipment and Tools
High-Quality Repairs and Services
Excellent Customer Service and Satisfaction
A Comfortable Waiting Area with Free Wi-Fi and Refreshments
A 36-Month/36,000-Mile Warranty on All Services
Schedule Your Engine Repair Service with Us
If you're experiencing engine problems, don't wait until it's too late. Contact Hillen Tire and Auto Service Tire Pros today to schedule your engine repair service appointment. Our friendly and knowledgeable staff are here to answer any questions you may have and provide you with reliable and affordable engine repair services in Timonium, MD. We look forward to serving you and getting your car back on the road.