Skip to Content
Differential Repair in Timonium, MD
Professional Differential Repair
A car's differential allows tires to move in the same direction while rotating at different speeds. When a car turns, the outside wheel must rotate more than the inside wheel. Without this essential component, there could be damage to other tires or aspects of the car. You may have questions about your car's type of differential, how many your car contains, and more. We can personally answer those questions at Hillen Tire and Auto Service Tire Pros. Our team will take care of your automobile in a timely and trustworthy manner. We offer various services to get your vehicle back in top shape, including differential repairs. Rest easy while we get your car up and running.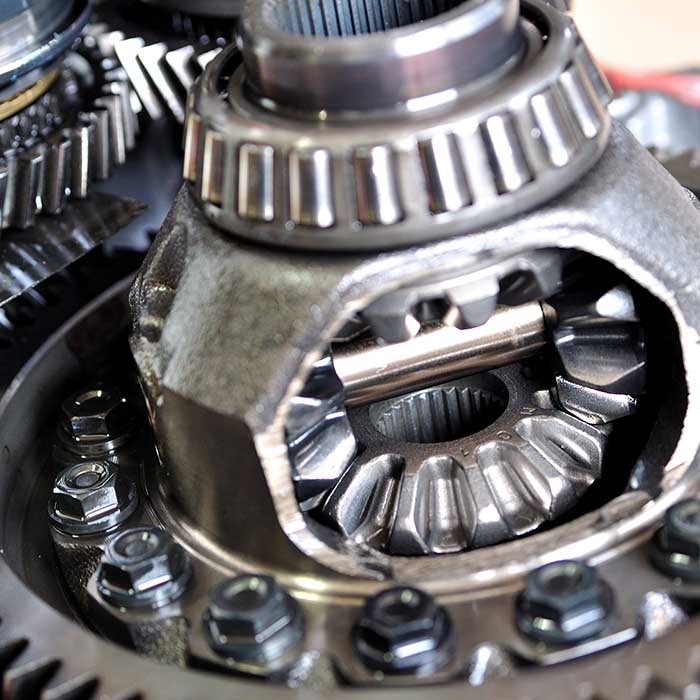 What Is a Differential, and
What Does It Do?
A differential is a gear system that sends power to different drive wheels. Each wheel must turn at a different speed to accomplish a turn. There are four types of differentials, and each serves a specific purpose.
Open differential: This is the most common type of differential. This differential allows the wheels to turn at different speeds, smoothing out turns.
Locking differential: When wheels are connected to turn at the same speed, mostly found on trucks.
Limited-slip differential: This differential shifts between open and locking. When a wheel loses traction, it switches to the locking differential to regain traction and control. This is commonly found in sports cars.
Torque-vectoring differential: This can be beneficial, as torque-vectoring can pinpoint how much torque to send to each wheel. This is a specific design most commonly found in all-wheel drive vehicles.
Consequences of Putting off Differential Repairs
There are many issues with not fixing your differential in a timely manner. Consequences include wear and tear on your tires, problems with gears and bearings, and lack of overall control. Along with differential repairs, we also offer a range of tires and custom wheels to help with differential damage to other parts of your vehicle.
Does My Differential Need Repair?
Both front and rear differentials can need repair. Differentials are essential to your vehicle running smoothly and are not something that should be put off. If you notice your car exhibiting one of the following, it may be time to bring your vehicle to our differential repair shop.
Steering difficulties
Howling sounds
Humming noises
Unexplainable wear and tear on your tires
Sounds of gears grinding
Burning through oil quickly
Vibrations through your car
Types of Differential Repairs
There are many components to a differential that may need to be repaired. You may not have to replace your differential completely. We are here to pinpoint the exact issue to give you the most affordable repair possible. We consider multiple types of repairs for your differential, listed below.
Differential Gasket Replacement: A simple repair requiring re-sealing and replacing the silicone cover of your rear differential.
Sealing the Rear Differential Piston: Removing the yoke of your rear differential and putting a new seal into place.
Sealing the Side of the Differential: A more extensive repair, this requires removal of the axle shafts, replacing the seals on the differential's side, and re-attaching the shafts.
Contact Hillen Tire and Auto Service Tire Pros
Hillen Tire and Auto Service Tire Pros have provided exceptional customer service in Timonium, MD, since 1917. We are a family-owned company and understand the importance of your life running smoothly. We want to give you the best options available, including pricing. We offer various coupons and roadside assistance for customers who purchase our services. Other services are also available, including batteries, oil changes, brake repairs, and tune-ups. We believe in quality, trust, and honesty. Contact us today to schedule an appointment. We look forward to serving you!